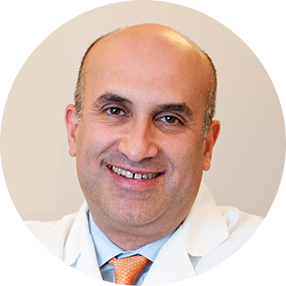 Education:
Medical Degree: 6/1994
Doctor of MedicineNew York University School of Medicine New York, NY
Honors: Alpha Omega Alpha SocietyAwards: Silverstein Scholarship, Alpha Omega Alpha Award*
*for student with highest scholastic rating for 4-year medical school
Undergraduate Degree: 6/1990
BA in BiochemistryNew York University New York, NY
Honors: Magna Cum Laude, Phi Beta Kappa, Premedical Honor Society, Dean's List Award: George G. Brown Chemistry Award
Additional:
Dr. Yaghoubian is a board-certified orthopedic surgeon specializing in disorders of the hands, elbows, and upper extremities. He completed fellowship training in hand, upper extremity and microsurgery at the University of Pittsburgh Medical Center in Pittsburgh, PA. He received his M.D. with distinction from New York University in New York, NY, and was a resident at New York University Medical Center, Hospital for Joint Diseases/Bellevue Hospital in New York, NY. Dr. Yaghoubian has co-authored a number of published clinical articles and has made presentations at regional and national meetings in the areas of orthopedic and hand surgery.
Specialty:
Orthopedic Surgery
Elbow
Hand/Upper Extremity
Address:
2 Riverview Drive, Danbury, CT 06810
Phone:
(860) 355-8000 ext. 4216
Specialty Areas:
Specializing in Hand, Shoulder, Upper Extremity and Microsurgery
Board Certification:
American Board of Hand Surgery (Diplomat, 2003)
American Board of Orthopedic Surgery (Diplomat, 2002)
National Board of Medical Examiners (Diplomat, 1995)
Licensure:
Connecticut (2000)
New York (1995)